Retina resolution
In 3D scanning, accuracy that allows details to be discerned is paramount. For example, if some scanner has a scan area that is 90x80x55 mm and a 1.3 MP camera, then the resolution will be 0.070 mm per pixel (90 mm/1280 pixels = 0.070 mm/pixel). You're unlikely to get an accurate model with parameters like that. The resolution of the D3D-s reaches 0.010 mm/pixel. This is possible because of the 5 MP camera and high-quality lens. Also, we can create a custom solution according to your task.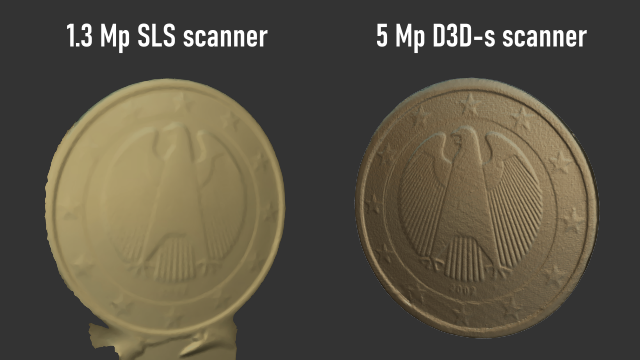 6 degrees of freedom
You'll face challenges when scanning with SLS technology. Complex objects will require you to repeatedly reposition the model and be fully engaged in the scanning process. We've solved this problem. The D3D-s was designed to not require repositioning, so all you have to do is place the object on the table and start scanning. Thanks to its 6 degrees of freedom, the scanner can access any part of the model.
LED-line technology
Compared to laser sources, the light LED-projector ensures more uniform illumination in addition to sharp edges and no speckle effect.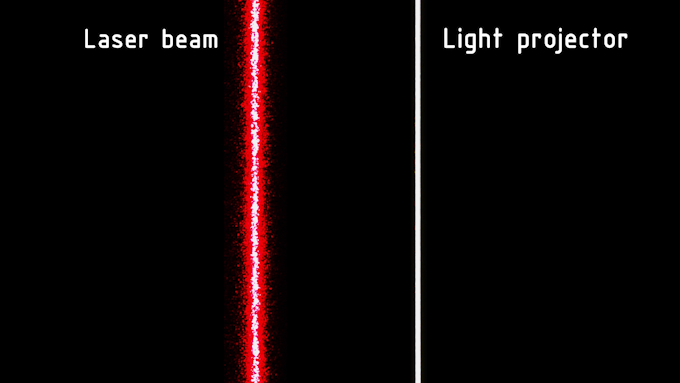 Scanning examples
This is a model of a ring scanned with maximum precision.

This is a model is an inexpensive brooch scanned in quick mode. Note the complexity of the model. It's difficult to scan this many crystals if the scanner has less than 5 degrees of freedom in its movement.

This signet ring is old and curved. It has a complex shape. But none of this is a problem for the D3D-s. It accurately reproduces all the flaws of the original model.

The D3D-s scanner has no trouble producing a 3D model of an ancient mantra engraved in stone.

The large scanning area lets you scan more than just jewelry.

Walnut

Comparison jewelers scanners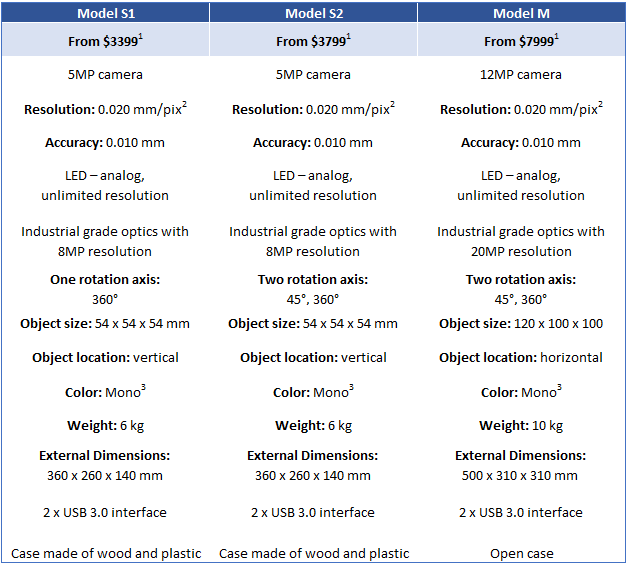 1) This information is not indicated in official documentation. We calculated it, and it may be incorrect. 55 mm/1024 pixels = 0.053 mm/pixel

Technical Specifications
Scanning Volume on turntable: ∅ 100x130mm / ∅ 3.937 x 5.118 inches
Resolution: 10 microns/pixel
Maximum weight on turntable: 2kg / 4.4 lbs
Light: LED light 945 Luminous Flux (lm)
Color: Mono
Connectivity: 2xUSB (Camera, PC)
Autonomous Scanning: Computer connection required
Software: Windows Based
External Dimensions: 600 x 300 x 420mm / 23.622 x 11.811 x 16.535 inches
Weight: 10kg / 22 lbs
Minimum System requirements
64-bit Windows 7/8/10
8 GB RAM
OpenGL 3.2 compatible graphics card with 2 GB RAM
Fast SSD (recommended)
4GB of HDD free space
2xUSB 3.x (recommended)
Software
We developed software specifically for the D3D-s with lots of unique features. The software is currently available for Windows 7/8/10. Once the scanning is done, you'll get an STL file that you can open in any program that supports STL files, such as ZBRUSH, RhinoGold, MatrixGold, Jewelery cad dream and more.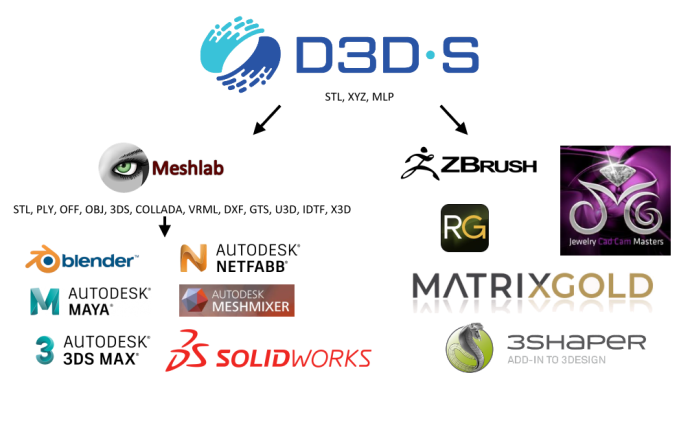 EMBARGOED AND SANCTIONED COUNTRIES
We restrict exports to certain destinations: Crimea - Region of Ukraine, Russia, Venezuela, People's Republic of China, Iraq, North Korea, Balkans, Belarus, Central African Republic, Congo, Iraq, Lebanon, Liberia, Libya, Somalia, Sudan, Syria, Yemen, and Zimbabwe, Cuba, Iran, Cyprus, Vietnam, Sri Lanka.