Super Retina resolution
To demonstrate the difference in resolution, we printed a test model using a Phrozen Sonic XL 4K printer. We then scanned the model using a Medit T710 dental scanner, which has a proven accuracy of one micron at twice the price of our scanner. The printer's pixel size of 50 microns produces layers that can be seen when enlarged. Our jewelry scanner's high resolution makes these layers visible on the scanned model. Despite the high accuracy, the medical scanner generates a model with rounded corners that does not look like the original.
Scanning process
To scan a model, you need to mount it securely to avoid any movement during scanning.
Models also need to be coated with a special spray that makes them white. Two types of spray are available at present. The first is chalk-based and coats models in small particles of chalk. More modern sprays are specially formulated to dissolve in air over time.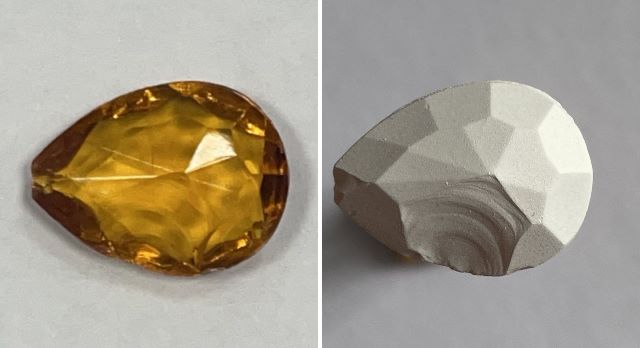 Our engineers designed this scanner specifically for small stones, so unlike other SLS scanners, its camera is oriented horizontally.
Conventional diamond scanners can only scan convex objects. The S2 captures every dimple and defect. The S2 includes special stands for scanning gemstones simultaneously from two sides. The scanner tilts the table first to one side and then to the other.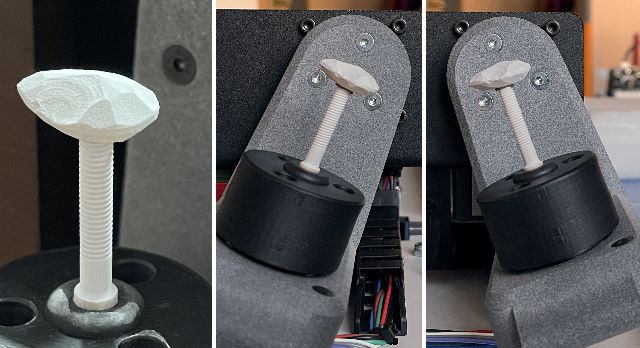 The scanning process yields a 3D model that you can use to create jewelry in a CAD program. You can also showcase your models on your website.
The images above are of a 17-mm gemstone. Can the S2 handle very small items? Sure. Take a look at this scan of an M4 set screw.
3D-scanning miniatures
The S2 jewelry 3D scanner is also suitable for scanning miniatures. In fact, it is the best tool for copying a miniature. Only our scanner can provide a faithful reproduction that includes even the smallest details. Other scanners are simply unable to do this or cost ten times more. Look at the scan below. You can see all the defects and even marks from the mold.
Free MeshLab software
We use the open-source program MeshLab is process the scan results. This powerful program is designed to work with scanned models and contains hundreds of convenient functions that let you get unrivaled results. Because the program is free, the Internet abounds with many tutorial videos to learn its capabilities. Additionally, you save significantly on the cost of the scanner. That said, if you want, you can process scan results using any program such as Artec Studio or Polyga PointKit.
After you get an STL file, you can open it in any favorite CAD program, such as MatrixGold, ZBrush, etc.
Nice look
With the beauty of natural wood trim, the S2 is designed to enhance any room or decor.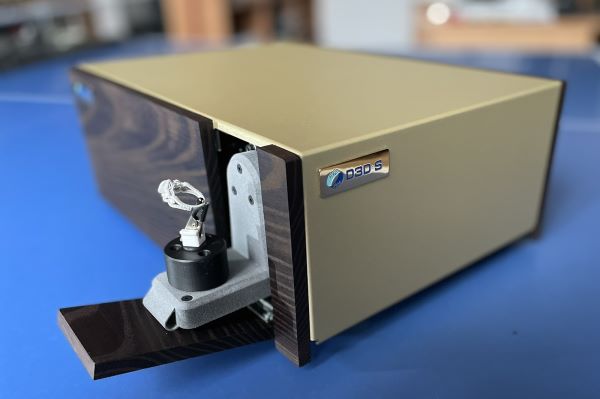 Unlimited support
For your convenience, we have introduced unlimited online support. Ask us as many questions as necessary until you learn how to use the scanner confidently. We provide online training and quick support via WhatsApp. You will be assisted by one of the engineers who designed the scanner, so the information you get will be highly reliable. One hour is usually enough for us to explain how the scanner works. We are always happy to help you and admire your great results.
Technical Specifications
Camera: 5MP
Resolution: 0.022 mm/pix
Accuracy: 0.010 mm - 0.015mm
LED: analog,unlimited resolution
Two rotation axis: 45&deg, 360&deg
Object size: 60d x 54 mm
Color: Mono (Requires a special removable spray)
Weight: 6 kg
External Dimensions: 360 x 260 x 140 mm
Interface: 2 x USB 3.0
Scan time: 8-20 minutes. Depend on the size and complexity of the model.


Minimum System requirements
64-bit Windows 7/8/10/11
8 GB RAM
OpenGL 3.2 compatible graphics card with 2 GB RAM
Fast SSD (recommended)
4GB of HDD free space
2xUSB 3.x (recommended)